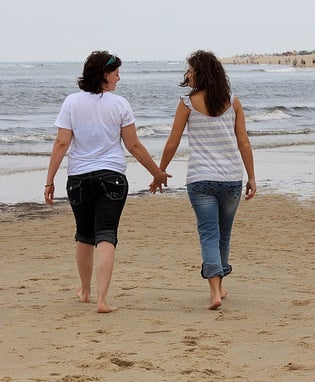 A "Provincetown For Women" Facebook fan recently popped a question..."What are the must-see and must-do things in Ptown when bringing my girlfriend for the first time?" Here are some of the ideas for some fun things to do in Ptown this time of year.
Ptown: Must See & Do
Get a permit and have a campfire on the beach.
Go on a whale watch. Tip: with

AAA you can get a $3.00 discount per ticket.

Go on Sunset dune tour, Bayside Betsy's, Waterford, Chach's on Shank Painter, Herring Cove, bike trail, for starters.
Head to Race Point Beach.
Walk over to the Ptown Pilgrim Monument.
Sit and listen to the tide coming in and out.
Do a Friday night Gallery stroll.
Eat at Front Street or Edwige for a romantic dinner.
Beachcomb near Flyers.
Hand feed the birds at Beech Forest.
Stop by the Purple Feather for decadent desserts.
Race Point with binoculars and see the whales from shore.
Go on a Sunset cruise.
Go for a bike ride.
Get a massage for two at Shui Spa.

Watch people on Commercial Street, in front of town hall.

Stop by the Ptown Fudge Factory.
Eat Mexican food at Lorraine's.
Or, all of the above and more based on
what locals recommend
.
Join the conversation and fun:
Note the above ideas were provided by many of our great fanbook fans. Thanks to all who inspired this post.