Couple who met at Single Women's Weekend got married in Ptown!
We wanted to share our success story.
After almost 2 years of being single and doing the on-line dating process I registered for the Singles Women's weekend, then I completely forgot about it until the email reminder. I said to myself no, not going, should go, not going, right up until the Friday of May 20th. I am still saying no right up the Orleans Rotary where I circled 3 - 4 times before getting up the courage to continue.
I checked into the Crown & Anchor and unpacked just my toothbrush thinking I may not be staying long. Then over to the "Meet & Greet" where your staff did a great job of making everyone feel welcome and comfortable. I enjoyed meeting several women, but quite honestly I began to feel that I might be better just packing the toothbrush and heading home. I only had an 1-1/2 hour drive back and no one would even know if I had left.
The "Meet & Greet" was coming to a close and everyone was being directed to the "That's Amore Italian Buffet" so my thought was I has not eaten since breakfast, and maybe a good idea to have a bite before getting on the road. So, I went through the buffet line, looked for the table closest to the door and joined the ladies there for dinner. After about 10 minutes a young lady (Lily) sat two seats to my left. Quite honestly my first thought was "hmmmm she was not at the "Meet & Greet", then after introductions with all at the table we began a very simple conversation which began with why she really was there that Friday night, and also what brought me to Singles Women's Weekend. It turns out that Lily really needed more of an escape from the stress of work and life, so she drove 13 hours to a peaceful Provincetown, MA from Virginia.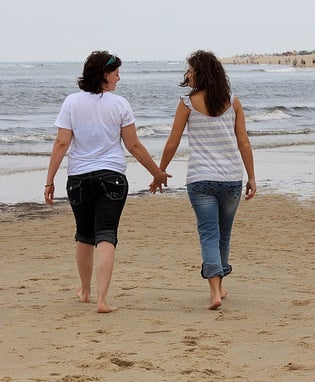 We continued our conversation well after the dinner was over, we both had not noticed but by now everyone had left and the staff had actually began to clean up. We continued on to attend the Comedy Show (Jessica Kirson was hysterically funny and not to be missed) then Lily and I spent the rest of the weekend getting to know each other a little bit more. We have taken the accidental meeting at the dinner to our engagement this past Christmas, our rings are engraved with May 20th, 2011.
Our message to all the women attending Single Women's Weekend is to give yourselves the opportunity, attend the events and be open to the unexpected. What may begin purely by chance could lead to finding incredible happiness...
Wishing you and all attending a great weekend in May.
Sincerely,
Annette & Lily