The Women's Event of the Summer, July 20-24
With its sister events like the The Dinah in Palm Springs highlighting other seasons of the year, Girl Splash – July 20th through 24th in Provincetown, Massachusetts – is the only summer event for women on the year's calendar.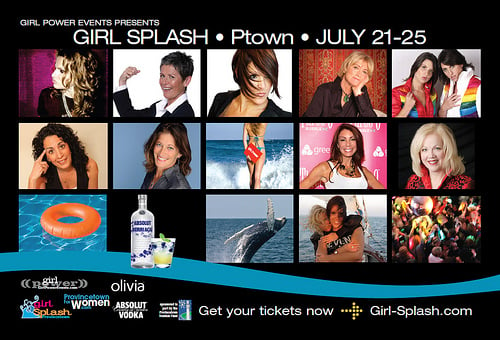 Now in its fourth year, this seaside party features a non-stop series of top-notch entertainers.
This year the Girl Splash is proud to present Sandra Bernhard, Kate Clinton, Vickie Shaw, Jennie McNulty, Poppy Champlin, Mimi Gonzalez and more surprises to be announced.

The mega popular ABSOLUT® Inn Stroll returns, and you should too. Girl Splash Idol, sizzling dance parties, an all-lesbian whale-watch boat trip; parties on the only lesbian beach in the country; and all-lesbian sunset sails, dune trips, and a mega pool party round out the week. Check out the complete schedule and buy tickets at www.Girl-Splash.com.