2017 Girl Splash Schedule AT A GLANCE - SCroll down for details
Everyday L Beach at Herring Cove

Monday, July 17
Epic All-Women Tour of Cape Cod
8PM Suede in Concert
Tuesday, July 18
5:30PM Vickie Shaw Comedy Show
7PM Opening Night Garden Party
Wednesday, July 19
10AM Girl Splash Chartered Trolley Tour of Provincetown
Noon Provincetown Foodie Tour
3PM "Love American Style" Book Reading
5:30PM Vickie Shaw Comedy Show
6:30PM Girl Splash "IDOL"
8:30PM Movie Night Under the Stars
10PM Dance Party
Thursday, July 20
9:30AM All Women's Whale Watch
3-5PM Provincetown Inn Stroll
5:30PM Vickie Shaw Comedy Show
6-9:30PM Dune Tour & Sunset Beach Fire
7PM Kate Clinton Comedy Show featuring VIP after-show Talk-Back
8:30PM Ghost Tour of Provincetown
9:30PM Dance Party
Friday, July 21
11AM-3PM Girl Splash Pool Party
6:30PM Cape Cod Clambake on the Beach
10PM Dance Party
Saturday, July 22
11AM BRIDE PRIDE
3-5PM THE CRAWLENGER | Part Pub Crawl/Scavenger Hunt
6-9:30PM Dune Tour & Sunset Beach Fire
7PM Sunset Champagne Schooner Sail
9:30PM The White Party
GIRL SPLASH PERFORMERS
7PM Kate Clinton | Thursday, Friday & Saturday
Monday July 17
TOUR CAPE COD
Join us for an epic all women tour of Cape Cods finest attractions. Regular visitors to Ptown will enjoy the opportunity to sample the sights and sounds, treats and tastes of Capes quaint villages, seafood shacks, lighthouses, ponds and bay and ocean beaches.
SUEDE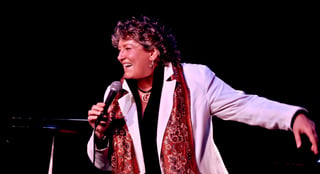 8PM
NY Press says she's like Adele meets Diana Krall meets Bette Midler—sassy, smooth and intoxicating. Selling out clubs like Boston's Scullers Jazz Club and New York's famous Birdland. She calls Cape Cod home but tours nationally and internationally all year filling the best venues from Boston and New York to San Francisco to New Zealand. And, she's FUNNY! From unbelievable a cappella to "bring down the house" belting blues, Suede delivers it all with her own unique blend of warmth, wit and musical artistry. "Voices like hers come along maybe once in a generation. A spectacular evening of song and style!" – New York Times
Tickets: $30/$50, Paramount at The Crown & Anchor, 247 Commercial Street. Individual tickets available here.
Tuesday, JULY 18
Opening Night Garden Party

7PM
Come see and be seen. Join the other women of Girl Splash for a relaxing Garden Party. Start the week off enjoying one of Provincetown's beautiful gardens, with cocktails and light refreshments.
Wednesday, July 19
All-Women's Trolley Tour of Provincetown
10AM
Join us for a relaxing tour of Provincetown. We will take you on a narrated tour of Provincetown, the art district, hundreds of boutiques, and beautiful Cape Cod homes. See panoramic views of Provincetown Harbor, Cape Cod Bay, and magnificent Atlantic Ocean. The expert narration includes the pilgrims first landing, the "graveyard of the Atlantic", playwright Eugene O'Neill, and other fascinating history of little village at the end of the world.
Foodie Tour
Noon
Enjoy a sampling from the menus of some of Provincetown's best restaurants and locally made sweets and treats. Come gather with the girls and explore the unique tastes that Provincetown has to offer.
LOVE AMERICAN STYLE

3PM
Join lesbian authors Kim Baker, Renee MacKenzie, and Lucy J. Madison for a special reading and book signing that showcases Love American Style, in all its lesbian glory. Come hear the authors read from their most recent works at the scenic Harbor Lounge to highlight lesbians from all walks of life finding love in different circumstances and genres. Attendees can enter to win a free signed book from each author.
Harbor Lounge, 359 Commercial Street
Cash Bar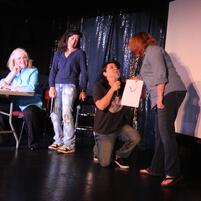 GIRL SPLASH "IDOL"
6:30PM
Our panel of hilarious Celesbian judges make GIRL SPLASH 
IDOL one of the best events of the year! Come perform or just come to watch the show. Here's your shot at stardom and a cash prize, or just a night of mega fun! Arrive 1 hour early if you'd like to perform.
PLEASE NOTE: Standard Karaoke music is available. If you have a special song you'd like to sing, please bring along the music. If you have any questions, please call (508) 246-2082
MOVIE NIGHT UNDER THE STARS
8:30PM
Come curl up with a bowl of popcorn and your sweetheart or bring your whole gang to this al fresco cinematic experience. What could be better tha a movie under the stars on a warn summer night.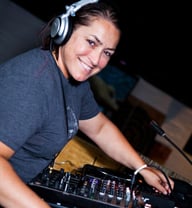 Dance Party
10PM
What a BLAST at Girl Splash dance party. DJ Jodi is on the mix with your favorite dance music. Do you have moves like Jagger? Can you do the Cupid shuffle? Don't fight the feeling, just come out and dance, dance, dance.
Thursday, July 20
ALL WOMENS WHALE WATCH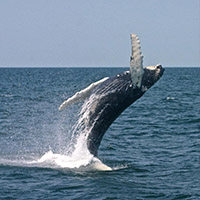 9:30AM
Ever been up close and personal with a 50-foot, 40-ton whale? Once you have, it's an experience you'll never forget. People come to Provincetown from all over the world to enjoy some of the best whale watching anywhere, here off the Coast of Cape Cod. Treat yourself to the awe-inspiring sights and sounds of humpback, right, and finback whales breaching and spouting through the deep blue Atlantic Ocean. Whether you're looking to experience one of the wonders of the world, get in touch with nature, be out on the water, or just be on a boat full of women, this is the place to be.


INN STROLL
After soaking up the sun on the beach or shopping till you drop down C street, it's time to relax with some cool refreshing drinks. Enjoy light refreshments at some of Provincetown finest Inns. Stroll through town and explore botique guest houses with stuning views of Provincetown Bay. Meet women from around the world who have gathered in summer in Ptown in a relaxed and elegant setting.
DUNE TOUR & SUNSET BEACH FIRE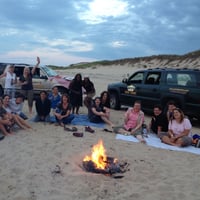 6-9:30PM
"The highlight of our vacation!" Get your seat now in the caravanof 4x4s that will take you on very rare opportunity to tour the spectacular Cape Cod National Seashore dunes, see the sunset over the ocean, and enjoy a bonfire fire on the beach. Sounds like a movie, doesn't it? This is an event created just for Girl Splash and is not otherwise available. Adult refreshments are included. Don't forget your camera.


7PM Knock! Knock! Who's There? Zombie Apocalypse!

We hear, "Shut up! No you shut up!", "I know you are, but what am I?" and "Ur a 10. Ur a 9. Ur an 8." coming from President Peepee's Playhouse. What's a comic to do? Tweet? Improv? Crack? Wrong, wrong, wrong. Nothing but knock, knock jokes! They got people through the Great Depression; they'll get us through the Zombie Apocalypse. They're fun, fast and will make you laugh the whole show. Knock, knock. Who's there? I hope you are.
THE PROVINCETOWN GHOST TOUR
8:30PM
Ready for a freakishly good time? Pilgrims, pirates, and people of the past fill the sights and sounds of this haunted journey through the narrow streets of Provincetown and its historic cemeteries, inns, and buildings. Come if you dare, but just be sure to get your tickets for this as soon as you can because this event will sell out.
DANCE PARTY
9:30pm
Come dance with our favorite DJ, who will be playing old school jams. Bust out your retro outfits or relaxed summer styles. We're reaching back and playing all of your favorite dance tunes.
Friday, July 21
GIRL SPLASH POOL & BEACH PARTY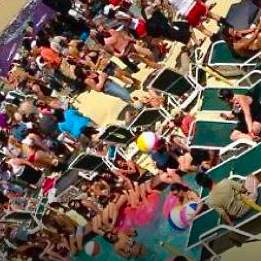 11-3PM When's the last time you were in a pool of only women? Maybe never? Now's your chance! The Party will be filled with non-stop heat and fun including a Dance Party, Guest DJs, Beach Volleyball, Olivia Pool Games, raffles, prizes, and giveaways! Mimi Gonzalez wouldn't miss it, and who knows, we may even find her judging an Oil-Wrestling Contest! Our sexy DJs help set the mood with a non-stop selection of your favorite vibes. Stunning water views, poolside bar, and lots of fabulous women make the party a weekend must! GET WET!
CAPE COD CLAMBAKE ON THE BEACH
6:30PM

A good old-fashioned Cape Cod Clambake on the beach and bonfire. A beach-casual, fun, and picturesque Clam Bake on the beach with Choice of 1 1/4lb Lobster, 8oz Strip Steak, or Char-Broiled Chicken entrée, each served with Homemade Clam Chowder with Oyster Crackers, Creamy Cole Slaw, Herb Roasted New Potatoes, Corn on the Cob, Jalapeno Corn Bread with Honey Butter and Watermelon & Brownies for dessert, plus Beer & Wine and Assorted Soda & Bottled Water included.
As the sun sets over the water, we'll light a roaring bonfire and finish the evening under the stars. The most popular event of last year's Girl Splash. Don't miss it!
DANCE PARTY
10PM

Saturday, July 22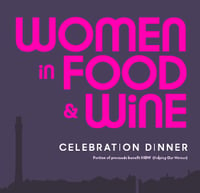 NOON
If you're looking to tie the knot this year, join us in Provincetown at Bride Pride, the World's Largest All-Girl Wedding and Renewal Ceremony. You'll find yourself in the company of hundreds of women simultaneously declaring their never-ending love for each other beneath the stunningly sun-soaked July sky. You'll be legally married by award-winning, irreverent Reverend-for-the-day, LGBTQ icon Kate Clinton. And, if there are at least 100 couples, you'll become part of recorded history with Guinness Book of World Records for the World's Largest Lesbian Wedding and Renewal Ceremony.
The Crawlenger
3-5
Part pub crawl, part scavenger hunt
Participants will be divided into teams of 5-7 people. Come solo or put in a team! Each team will choose a captain and a social media person. You will be given a list of challenges. These challenges will be given a point value. These challenges, should you choose to accept all or some, will take you on a fun and fabulous trip through the streets of P-town. You will be challenged to drink, eat and take videos & pictures at P-towns famous bars, restaurants, landmarks and more..so charge those phones!
This event will keep you moving, thinking and laughing all the way from Harborside Hotel to the Boatslip, just in time for Tea!
DUNE TOUR & SUNSET BEACH FIRE
6-9:30PM
"The highlight of our vacation!" Get your seat now in the caravanof 4x4s that will take you on very rare opportunity to tour the spectacular Cape Cod National Seashore dunes, see the sunset over the ocean, and enjoy a bonfire fire on the beach. Sounds like a movie, doesn't it? This is an event created just for Girl Splash and is not otherwise available. Adult refreshments are included. Don't forget your camera.

SUNSET SCHOONER SAIL
7PM

What could be better than to sail off into the sunset with a boat full of women sipping champagne. We can't imagine … so join us for an amazing sail on the Harbor.Get your tickets now; this event sold out very early last year.
THE WHITE PARTY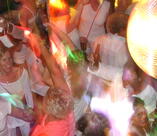 9:30PM
Girl Splash hits a climax with the biggest dance party of the weekend. The Girl Splash Stars invite you to join hundreds of women dressed in summer white, (or black if you just can't do it.)